Why You Need Earthquake Gas Shut Off Valve
Like most states, Washington has guidelines designed to help reduce the risk of fire from open gas lines. These regulations include the types of safety features and equipment that can be incorporated into gas fuel lines. The most common device that home and business owners can install to protect their property is earthquake shut-off valves – also called seismic valves.
More than 1,000 earthquakes occur in Washington annually, most in the west of the Cascades. While only a handful makes the headlines, all of these events have the potential to risk lives and damage property. Earthquakes can have both immediate and long-lasting effects. Hence, installing an automatic gas shutoff valve that shuts off the flow of natural gas to a home in the event of an earthquake or line rupture is the best possible safety precaution for the homeowners.
EARTHQUAKE VALVE INSTALLATION
There are two types of Earthquake Gas Shut off Valves installed: seismic (or earthquake-actuated) valves and excess flow valves. These available Earthquake valves can manually or automatically shut off the flow of regulated gas to a home through meters or pipes that can be damaged due to an earthquake or other heavy tremors. This is accomplished either by motion sensing, which response to tremors caused by earthquakes, or a type of valve that senses a gas flow that is higher than normal and seals off the flow completely. These earthquake valves can be installed in lines that carry either natural gas or liquefied petroleum gas (LPG). The type of valve installed will be subject to an inspection (i.e., what will be the better fit).
If you smell gas after an earthquake, gas supply companies instruct homeowners and operations engineers in commercial buildings to shut off their gas supply immediately. Escaping gas has the potential to cause even more problems than an earthquake itself, either through fire or severe damage to your gas system. This is why the gas needs to be shut off as soon as possible when a quake has occurred. However, sometimes that isn't feasible and other times no one is around to smell escaping gas. That's when your unattended earthquake valve goes into action and instantly cuts off the gas to protect your property.
Essentially, an earthquake valve is there to act as a failsafe, but it can save much more than just your home.
INSTALLING YOUR SEISMIC VALVE IS NOT A DIY PROJECT!
Seismic Gas Shutoff valves (also known as earthquake valves) can automatically shut off the flow of gas from the meter to the house. It works when the earthquake movement reaches 5.4 or more higher scale according to its in-built meter.
It's obvious that Seismic Gas Shutoff valves need to be installed properly with the correct settings. An incorrect installation and activation of a seismic valve result in potential damage to the gas lines themselves – and to your property – they can result in life-threatening accidents.
The installation of an earthquake valve is a complicated project and is also a difficult thing to test once the job has been completed. If it becomes a DIY project, there's no guarantee that the valve will actually work in the event of an earthquake.
An earthquake valve must be installed on equipment owned by your gas utility company, and the technicians you hire must have good working relationships with utility technicians and government engineers. They must also be savvy regarding permits and the condition of geological terrain.
That is why you want to call Fischer Heating and Air Conditioning when you decide to protect your property with seismic valves. We have a solid reputation for safe and successful installations of earthquake valves under many different conditions and guarantee our work.
How to Reset Your Earthquake Valve
After any natural disaster like an earthquake, an earthquake, or other significant event causes your earthquake to shut off or the excess-flow (EVF) valve gets close. To reset it back to work you can use the manufacturer's resetting manual guide. If you'll find it difficult to reset the valve then our recommendation is to call a certified professional from Fischer Plumbing to do the reset and adjust the valve settings and to perform safety checks to measure the gas flow and re-lit the pilot light.
How to Buy an Earthquake Valve
Below are different factors that will help you to understand what actually buying and installing an earthquake valve will cost you.
Price: The cost of the earthquake valve will vary on the type, size, as well as installation requirements & earthquake gas shut-off valve installation cost charges of different companies.
Choosing A Perfect Valve: Before finalizing the valve size and manufacturer, you need to consult with the local department building and safety department to find out their initial requirement for the earthquake valve.
Where to Purchase A Valve: After finalizing the valve, to buy it, you can contact trusted plumbers around your area or go to the local certified supplier.
Installing A Valve through Contractor: Installing an earthquake valve or excess flow valve (EFV) is not an easy job hence it is required to hire a professional and certified contractor who is well experienced and can set it properly on your house line.
Get Professional Help for Installing Earthquake Shut Off Valve
If you wish to install an Earthquake Valve or EFV, Fischer Plumbing can help you instantly. We will coordinate with you and will fulfill your requirement from choosing the valve to installing it properly on your house line. In some cases, the natural gas service line can gap intersperse to install the EFV.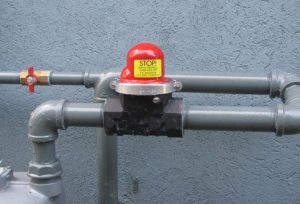 Call the professionals
Call Fischer Plumbing Right Away And Get The Best Plumbing Service At Your Doorstep
We are a full-service plumbing company that does all home service plumbing and sewer repairs.
This can be anything from drain cleaning, toilets, or sink replacement to rootering drains and repairing sewer lines. When it comes to plumbing, we do it all, just call us at (206)-279-3322
We care about your health and continue to serve our customers safely through the CDC COVID-19 protocols.
Office hours are 8 AM to 4 PM, after-hours emergency calls are very limited with current labor shortages, we cannot guarantee the ability to provide after-hours plumbing services. We will do our absolute best to accommodate your needs.
We are an hourly shop and charge time and material for most of our plumbing services. This is a more cost-effective process for our customers and most other plumbing companies charge overinflated prices and they have much higher profits as a result.
We do plumbing as far north as Everett and as far South as Renton. We also travel east as far as Woodinville and Issaquah. Please call us if you would like to know about providing plumbing services in your community.
Yes, we love to support non-profits, from Churches to Volleyball Teams, Little League, and our local roadside clean-up crews, we love to help out where we can.
CONTACT US FOR EARTHQUAKE VALVE