Boiler Service - Installation, Repair, & Maintenance

Plumbing is part of the home's infrastructure, and when things go haywire, the house stops working the way it should. You wind up with overflowing toilets, scalding showers, and leaky faucets! A malfunctioning boiler is one of the biggest problems affecting home plumbing systems.
If you're looking for residential local boiler repair by googling "emergency boiler repairs near me," it's time to stop your internet efforts and start getting the help you need from a team you can trust. Fischer Plumbing offers emergency replacement and repair services to Puget Sound and Seattle homes.
Whether you need gas boiler repair, same-day service, or something else, our team is here to help ensure your home is back in good working order. Partner with our team and know you're getting the area's best boiler service and repairs.
The installation quality will directly affect the unit's performance over the year. It is essential to choose a professional and experienced boiler installation service that understands the technicalities of this task.
New boiler installation begins with understanding the cost of boiler installation and choosing a unit that fits your needs and budget. The proper process involves inspecting the current unit and its replacement if needed. A proper plumber will ensure all connections are in place with safety guidelines intact.





So many problems can affect a home's boiler unit, so our team offers remedies for every issue you can think of.
We'll help you take care of common problems, such as:
Leaky boilers
Low pressure
No hot water or improper heating
Frozen condensate piping
Radiator faultiness
The unit is not responding or connecting to the thermostat
Whistling, banging, or gurgling noises emanating from the unit
The pilot light switches repeatedly
No power to the unit
The unit breaks down
Even a new and adequately installed boiler can have issues due to continuous use and wear and tear. Local boiler repair services can fix these issues after a thorough inspection and provide the correct cost for boiler repairs.
There comes a time when you cannot keep repairing your equipment, which has served its purpose. This is when you need to replace it.
A professional plumber will inspect and help you determine when a replacement is needed. Our trained plumbers will consider factors such as the age of your appliance, the number of repairs done, and the extent of the damage.
They will guide you through selecting the right boiler for your needs and budget and then make the replacement along with educating you on the price to replace the boiler.
Maintenance Boiler
Like any other appliance, your boiler will live longer and perform better if adequately maintained. Boiler maintenance services are essential for your boiler's performance. Our boiler maintenance service is designed to keep your unit running efficiently and to keep your energy bills low.
The services include regular inspections and minute repairs if required. This ensures you save significant repair costs in the long run.

Get in touch
To start your boiler repair, you'll need to reach out to our team using our phone number, email, or contact form listed on our website. Regardless of how you choose to reach out, we'll kick off the conversation by discussing your needs with you and learning more about what exactly you require in order to keep your home working properly.

DISPATCH A TECHNICIAN
Next, we'll send out a technician to assess the boiler and get to work repairing your problems! We'll bring any additional parts that you need so that we can keep your home working the way that it should right off the bat.
If you need any follow up care, we'll schedule a follow-up visit so that we can come back out and finish the job.

GUARANTEE
Fischer Plumbing prides itself on providing outstanding service to every homeowner we work with. That's why we offer a 100% guarantee on our services. If there's something wrong with our work, let us know so that we can make it right.
No matter what it takes, we'll head back out to your place to ensure that you get the boiler repair service that you paid for.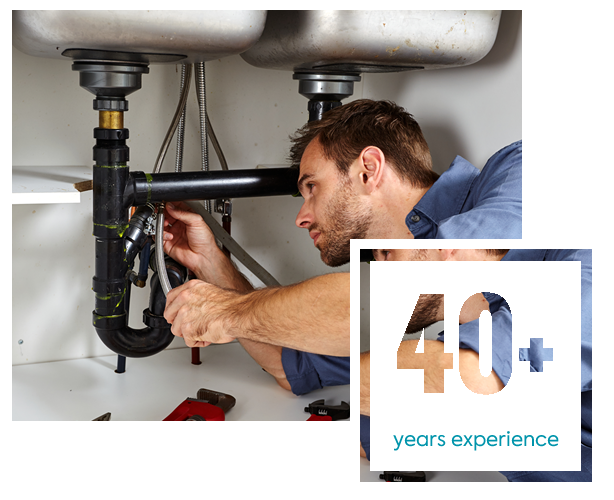 Great Reasons to Choose Fischer Plumbing
Fischer Plumbing has served clients in greater Seattle for over 40 years. Boiler installation, repair, and maintenance are one of our core services and expertise. We have skilled plumbers and technicians trained to handle various boiler-related problems.
Our teams are customer obsessed, and we ensure minimum to zero disruption in your daily routine and get your boiler up and running quickly.
Our skilled team is a simple call away if you need emergency boiler repairs.
Frequently asked questions
The amount of time required to fix a boiler depends on several factors, such as the extent of the damage. Sometimes it can take an hour or two, and other times it can even take days to repair.
An average boiler can last up to 15 years if adequately maintained. When you notice you need too many repairs to keep it running, you should replace the boiler to avoid increased energy bills.
New boiler installation can take anywhere between six hours to four days, depending on the type of the boiler and the work involved in taking down the old boiler.
You cannot install your boiler as it is against most building safety regulations. Installing a boiler is a job best left to professional boiler installation services.
Contact us for all your plumbing needs
If you have a project that needs handling, big or small, call us today at 425-786-0096. Together, we can resolve your situation quickly, effectively and professionaly.
If you have immediate plumbing issues that need to be addressed please call vs. filling out this form. 206-279-3322
Please use this form for non-emergencies. If you have a plumbing emergency, call us right away at any of the numbers listed.