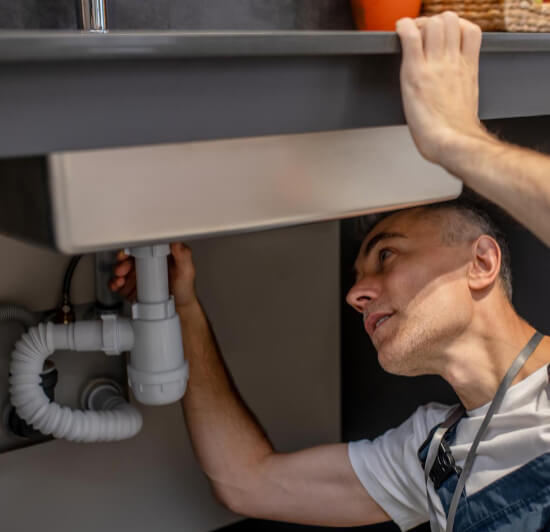 A sink is a pretty functional part of a kitchen, bathroom, laundry room, or utility room. Naturally, when something so essential gets damaged or clogged - you would want it up and running again as soon as possible.
If you put off sink repair for long - you're inviting bigger and more expensive problems your way. It's best to reach out to an expert sink repair service to come and assess the damage and make the repairs professionally to avoid the damage from getting out of hand.
Your kitchen sink does a pretty tough job of draining water almost all day long. In addition to this plumbing fixture draining water, it also works with the garbage disposal to get rid of food waste. Grease buildup and usage over time can cause wear and tear that can result in a damaged sink.
The result? A kitchen sink that ends up being non-functional. In either case, a kitchen sink repair needs to be super urgent for you to be able to use it properly.





So how much does a sink fix cost? The answer to that depends on the nature of the issue and the extent of the repair required. On average, it costs $252 to $307 for kitchen sink repairs.
It is imperative that you look out for the signs of damage so you can catch it early on and have a professional kitchen or bathroom sink drain repair service inspect it and contain it before it becomes a costly problem for you to fix.
A sink is a pretty essential feature of any bathroom or kitchen, and if it isn't working - you have a pretty big problem at hand. Your day-to-day activities like laundry, cooking, and washing dishes can be disrupted if the sink isn't repaired urgently.
You need local plumbing and sink repair services like Fischer Plumbing to come and assess the damage and get your sink fixed in no time. A local service will always be available in an emergency and will be able to deliver a cost-effective solution quickly.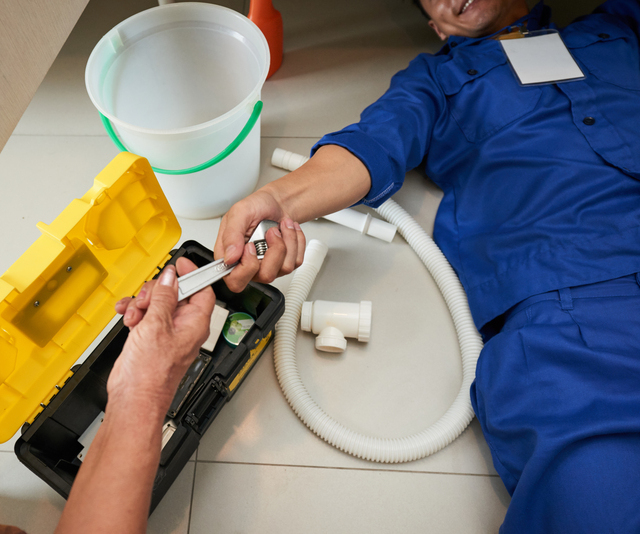 Signs Your Kitchen Sink Needs Repair
The need for a kitchen sink repair service doesn't arise overnight. It's a result of the slow buildup of food waste, grease, water sediments, and wear and tear.
There are some signs that a kitchen sink starts showing before it is completely damaged. Knowing these can help you catch the problem early on and avoid extensive issues.

Leaks
Every now and then, you need the help of an expert to repair pipes under the kitchen sink. These pipes can deteriorate and start leaking. If you run a tissue or a cloth on these pipes under the sink and you find any dripping or moisture - you need kitchen plumbing repairs.

Slow Drainage
It's pretty satisfying to pull that sink plug and see the water draining in a matter of seconds. What if you pull the plug and the drainage is painfully slow? There is definitely some blockage in the pipes, and it requires proper inspection.

Gurgling Sounds
Another obvious sign of a blockage in the pipes is deep gurgling sounds coming from the pipes every time you pull the sink drainage plug. The blockage creates air bubbles which then pass through the draining water and creates weird noises.

Odors
Is your sink smelling like rotten eggs or stale cabbage lately? It's quite possible that there is some blockage in the drain or pipes. If the drain is working fine, your septic tank might be experiencing damage.
Call Fischer Plumbing Right Away And Get The Best Sewer Line Repair Service At Your Doorstep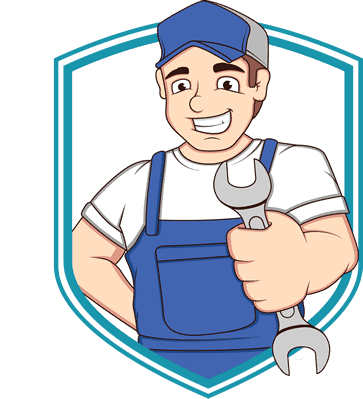 The Benefits of Sink Repair Services
When it comes to sink repair and replacement, nothing beats a professional service that understands sinks and sink repair. Apart from knowing that your problem will be fixed as soon as possible, here are some other benefits associated with hiring expert help for your kitchen or bathroom sink drain repair:
Swift ResponseA professional service like Fischer Plumbing is a quick call away. So, when you've got sink trouble on your hand, local service will be able to get you out of it almost immediately.
Modern Tools and EquipmentYou can take your wrench to the pipe all you like, but as a homeowner, you definitely do not have the equipment required to fix a damaged kitchen or bathroom sink. Sink repair technology has become advanced, and there are many methods and tools out there that can be used to ensure quick repairs.A professional plumber will have access to these tools and methods and will ensure your sink is up and running in no time.
Affordable SolutionsOne good thing about emergency kitchen plumbing repair services is that they aren't too costly. Since the issue is caught early on, the repair can be quick, and it can save you from more costly problems in the future.
WHAT TO DO IF YOU THINK YOU HAVE A SEWER PROBLEM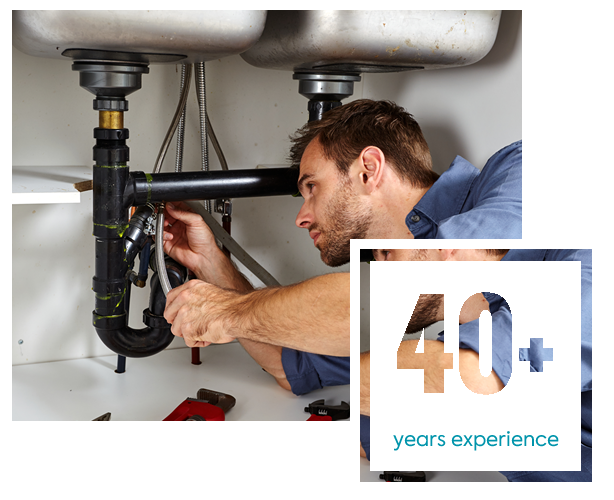 Great Reasons To Choose Fischer Plumbing
Fischer Plumbing is a local plumbing and sink repair service that has been operating for over 40 years. We have trained, licensed, and insured professionals that have the tools necessary to identify bathroom and kitchen sink issues and repair them effectively.
We ensure and guarantee 100% customer satisfaction through our services. Our experts will first understand the problem at hand and then suggest the required solution. We also offer maintenance services for regular checks that keep your plumbing systems in top shape.
If you need help with your kitchen or bathroom sink drain repair.
Frequently asked questions
You should replace your sink and faucet if they are damaged beyond repair. Your plumber will be able to tell you if a full-blown replacement is required or if just small repairs will suffice. Sometimes you will need to replace both the sink and the faucet, but mostly, you don't have to change both at the same time.
The average cost of a new sink and faucet is between $250-$1000. You can add an average of $350 to $1000 for the labor cost. The actual costs will obviously depend on the extent of the work and the fixtures you choose.
Plumbers can perform all kinds of repairs, installation and maintenance for sinks and other plumbing fixtures. You should trust a local plumbing fixture service to take care of your sink fixes professionally and effectively.
Office hours are 8 AM to 4 PM, after-hours emergency calls are very limited with current labor shortages, we cannot guarantee the ability to provide after-hours plumbing services. We will do our absolute best to accommodate your needs.
Yes, we love to support non-profits, from Churches to Volleyball Teams, Little League, and our local roadside clean-up crews, we love to help out where we can.
Contact us for all your plumbing needs
If you have a project that needs handling, big or small, call us today at 425-786-0096. Together, we can resolve your situation quickly, effectively and professionaly.
If you have immediate plumbing issues that need to be addressed please call vs. filling out this form. 206-279-3322
Please use this form for non-emergencies. If you have a plumbing emergency, call us right away at any of the numbers listed.