sewer drain cleaning Seattle
Leave it to the experts to tackle the messy job of sewer drain cleaning in Seattle. Most home and building owners know that sewer lines are important, but the system is something that they also immediately forget until such time that clogs in the system develop. A raw sewage backup is a problem that nobody wants to occur. It is a sewer drain problem that could lead to extensive damage to the home or building and a costly replacement or repair of sewer line. Before more serious drain problems occur, it is best to call professional plumbers to do a thorough sewer drain cleaning of our property in Seattle.
If you are facing clogged Sewer drain issues at your home or at the workplace and require professional sewer drain cleaning/ cleaner plumbers to help you, then Fischer Plumbing company is the best choice. We provide 24/7 sewer drain cleaning in Seattle, WA.
Clogged Drain is the Sign That You Require Drain Cleaning Services
For 40 Years, Fischer Plumbing has offered promising sewer drain cleaning services in Seattle, and its surrounding areas and helped the Home and Business owners to get rid of clogged drain problems.
You cannot predict when your drains will clog. It can occur anytime and the problem could go unnoticed until it is already worse. However, there are warning signs, which could tell you that there are already some issues developing within your drainage system.
The main sewer lines connect all the drains in your home or building to the sewer system in your city.
If this mainline or the secondary lines develop clogs, you'll have problems with all the drains in your home.
Some of the red flags include water backing up out of a toilet plumbing or drain. You might also hear gurgling sounds from the drains.
You might notice that the toilets start to percolate when you drain your washing machine or there will be water in your basement's floor drain.
Clogs could be isolated as well. You might notice that water backs up in your bathroom sink or your bathtub yet your toilet flushes out just fine.
In older homes, the roots of trees are the main cause of clogged sewer lines. Older sewer lines out in the yard may have been crushed by tree roots.
In newer homes, clog sources include thicker toilet paper, paper towels, and feminine hygiene products.
SEWER DRAIN CLEANING IN SEATTLE
Listen to what your home tells you. When it comes to sewer drain cleaning in Seattle, get in touch with the expert from Fischer Plumbing. In the meantime, you can do some minor measures to ensure that your sewer drain problem does not escalate into something bigger.
If there is a clog in any of the drains in your home and you suspect that it is caused by a blocked sewer drain, locate the sewer cleanout line. It is a short, white, and round pipe with a rubber cap that's located in your yard, close to your house. If there is a minor backup in your house, remove the cap to release the pressure buildup and send the water out into the yard instead of inside your house.
Call a plumber to clear up a clog. Typically the sewer drain cleaner will inspect your sewer line system and try to unclog your drain using a plumbing snake or a hydrojet. If the plumber cannot find the problem, they would offer to have a sewer camera inspection. Expert sewer drain cleaners advise consumers not to entertain companies that offer camera inspection without attempting to clear the clog first.
ABOUT FISCHER PLUMBING
Fischer offers sewer & drain cleaning in Seattle. We have maintained many residential and commercial establishments in the state for more than 40 Years. We know our business and have experienced, licensed, and professional plumbers to take care of all your sewer drain problems. We are available for regular and emergency plumbing service calls 24/7. Trust the experts for sewer repair in the Seattle area. Be it your sink, your tub, toilets, floor drains, or secondary and main sewer lines, we have the expertise and tools to provide efficient, economical, fast, and effective methods for cleaning and maintaining your drains and sewer lines.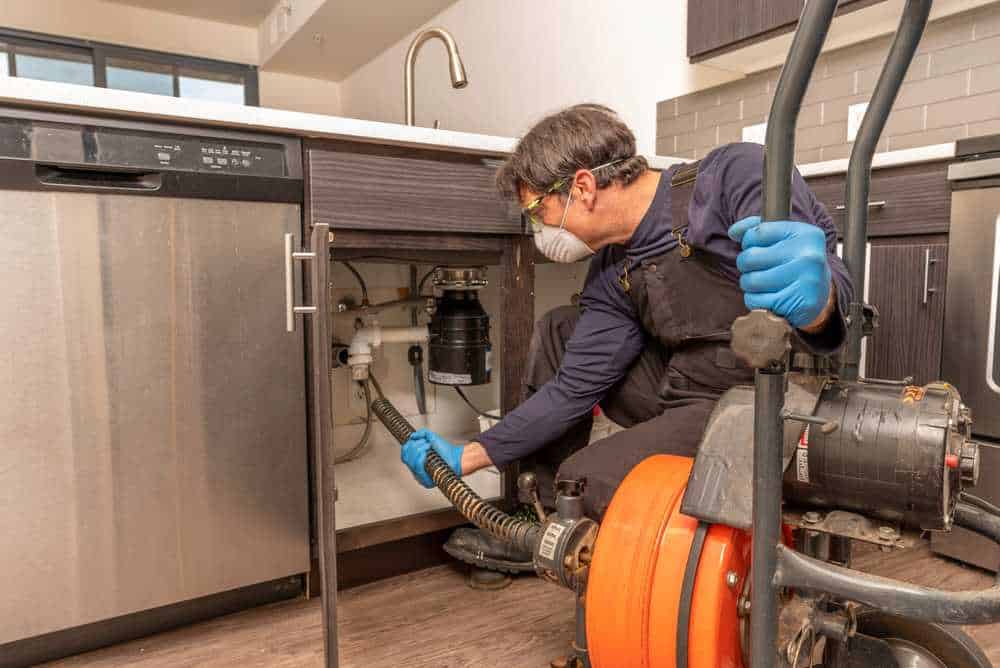 Call the professionals
Call Fischer Plumbing Right Away And Get The Best Plumbing Service At Your Doorstep
We are a full-service plumbing company that does all home service plumbing and sewer repairs.
This can be anything from drain cleaning, toilets, or sink replacement to rootering drains and repairing sewer lines. When it comes to plumbing, we do it all, just call us at (206)-279-3322
We care about your health and continue to serve our customers safely through the CDC COVID-19 protocols.
Office hours are 8 AM to 4 PM, after-hours emergency calls are very limited with current labor shortages, we cannot guarantee the ability to provide after-hours plumbing services. We will do our absolute best to accommodate your needs.
We are an hourly shop and charge time and material for most of our plumbing services. This is a more cost-effective process for our customers and most other plumbing companies charge overinflated prices and they have much higher profits as a result.
We do plumbing as far north as Everett and as far South as Renton. We also travel east as far as Woodinville and Issaquah. Please call us if you would like to know about providing plumbing services in your community.
Yes, we love to support non-profits, from Churches to Volleyball Teams, Little League, and our local roadside clean-up crews, we love to help out where we can.
CONTACT US FOR ALL YOUR PLUMBING NEEDS