WE CAN FIX YOUR LEAKING FAUCET!
Have you ever thought about how much use your faucets receive every day? Probably not!
If you're an average person, you'll go into the kitchen or bathroom, turn on the faucet, and expect water to come out. Turn off the faucet, water turns off and you're on your way. Simple and straightforward, as it should be.
Most of us only take notice of our faucets when they begin to leak. By the time you have to call in your faucet repair and installation professional, things have gotten way out of hand. By then, it's time to make the leaky faucet repair or install a brand new faucet.
But why does your faucet leak? What causes the leak in the first place? Read on to find out more…
WHY IS MY FAUCET LEAKING?
Here are a few reasons you're reaching for the phone to dial your faucet repair and installation technician:
O-Ring Problems — The O-ring is a small disc attached to the screw that holds your sink stem in place. With regular use, hard water, or the passage of time, the O-ring can become worn or damaged, leading to leaks. A simple replacement may be enough to turn off the drip.
Worn Washers — A washer sits against the valve seat, the connection between the faucet and spout. When you turn on the faucet, the washer grinds against the valve seat. This friction can wear or damage the washer, leading to a leak.
Corroded Valve Seats —The valve seat is the connection between your faucet and the spout from which the water flows. Water sediment can build up and corrode the valve seat, causing a leak. Cleaning the valve seat is usually enough to deal with the problem, though you may need to change it completely.
Improperly Installed Washers — If the washer wasn't installed just right, the sink can leak. If the installed washer is too large or small, it will also leak. Leaks that come from the handles are usually the result of improper washer installation.
Worn Seals — The inlet and outlet seals play an important role in the function of disc faucets, but they can sustain a lot of wear and damage over the years. Sediment can accrue in the faucet, wearing out the seals faster than normal.
Loose Parts — The packing nuts and adjusting ring in the stem screw can become loose over the years of use, causing leakage around the faucet handle.
Broken Plumbing — Broken pipes and fittings are sometimes the cause of your leaking faucet.
No matter the problem, it's best to get a professional to come in and check out the issues. With the right faucet repair and installation professional, you'll have your sink or bathtub up and running leak-free in no time!
OTHER FAUCET PROBLEMS
Here are a few other problems for which you may need a faucet professional:
Low water pressure
Rusting
Damaged faucets
Improperly draining sinks
Clogs
If you need help, it's time to call in Fischer Plumbing, Seattle's best faucet repair and installation service. We'll arrive in a hurry, and we're more than happy to help you deal with your faucet problems.
What does our services include?
We offer a complete visual inspection of the problem, as well as a thorough evaluation of the real cause (sediment, hard water, wear, improper installation, etc.). We'll happily do the repair or replace the damaged part, and all of our work is 100% guaranteed. All of our materials are also fully warrantied, ensuring you get only the best for the replacement of your faucets or sinks as needed.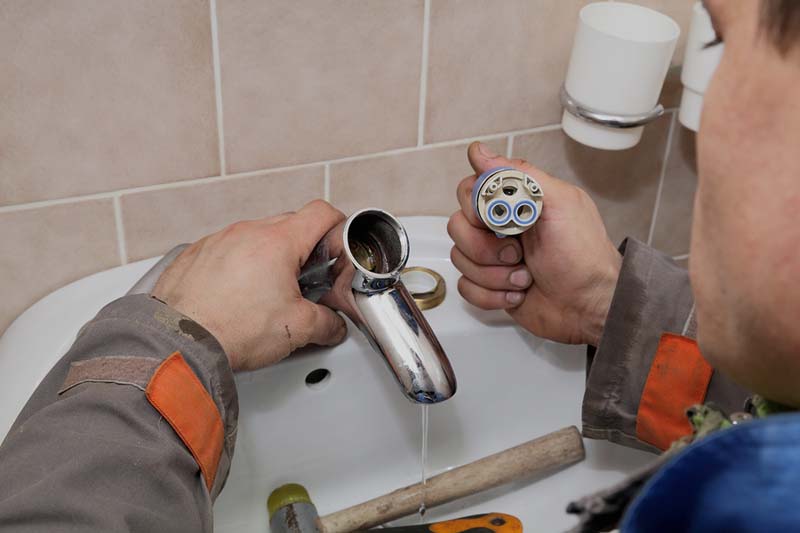 We are a full-service plumbing company that does all home service plumbing and sewer repairs.
This can be anything from drain cleaning, toilets, or sink replacement to rootering drains and repairing sewer lines. When it comes to plumbing, we do it all, just call us at (206)-279-3322
We care about your health and continue to serve our customers safely through the CDC COVID-19 protocols.
Office hours are 8 AM to 4 PM, after-hours emergency calls are very limited with current labor shortages, we cannot guarantee the ability to provide after-hours plumbing services. We will do our absolute best to accommodate your needs.
We are an hourly shop and charge time and material for most of our plumbing services. This is a more cost-effective process for our customers and most other plumbing companies charge overinflated prices and they have much higher profits as a result.
We do plumbing as far north as Everett and as far South as Renton. We also travel east as far as Woodinville and Issaquah. Please call us if you would like to know about providing plumbing services in your community.
Yes, we love to support non-profits, from Churches to Volleyball Teams, Little League, and our local roadside clean-up crews, we love to help out where we can.
CONTACT US FOR SEATTLE SERVICE