Call Fischer Plumbing for Toilet Repair and Installation
CALL FISCHER PLUMBING TO FIX YOUR TOILET PROBLEMS!
FISCHER PLUMBING LOVES TO HELP YOU ON YOUR TOILET PROBLEMS!
Toilets are probably the single most used plumbing fixture in your home. CNET found that 19% of people drop their phones down the toilet. That means at least 19% of people are spending time sitting on the toilet, using their phones to check their mail, chat with friends, play games, read books, and so on. It's no surprise, then, that the toilet is one of the primary places you'll develop a toilet repair or drain clog problem.
WHY IS MY TOILET LEAKING?
Do you have any idea how much water you can waste each year with a leaking toilet? Up to 80,000 gallons! That's a lot of water literally going down the drain, not to mention all the money you'll end up wasting on an extra-high water bill.
But what causes the leaks in your toilet? Here are the three primary causes of leaking toilets:
     Visible warping or rust – After a few years of exposure to water, the metal components in your toilet tank will rust or warp with regular use. Perhaps the flap won't close as it should, or the rubber gasket doesn't maintain a water-tight seal. All of these things can contribute to a leaking toilet.
     Old parts –– Remember the rust, warping, and wear caused by age? Toilets with parts over five years old are far more prone to leakage.
     Bleach exposure –– The water in your toilet tank may already be hard-water or filled with sediment, but when you add an in-tank cleaner (filled with bleach to sanitize your toilet bowl), the bleach can wear away at the toilet parts.
MORE TOILET PROBLEMS
Leakage isn't the only toilet problem you have to worry about. With all the use your toilet gets every day, you've got other things that could go wrong:
The bowl doesn't drain properly/drains too slowly.
The toilet bowl leaks.
The bowl overflows every time you flush.
The seat is loose and wobbles when you sit.
The toilet itself is loose and shifts when you sit and stand.
The tank doesn't stop filling, and the water runs continuously.
The tank vibrates as it fills up.
All of these things are signs they're something wrong with your toilet, meaning it's time to call in the plumber!
TIME TO CALL IN THE TOILET REPAIR SERVICE…
Got a toilet problem? Fischer Plumbing is here to help you deal with it!
Our plumbers are trained to handle any plumbing problem, no matter how big or small. We'll help you fix whatever is wrong with your toilet. It's the best way to protect the most-used room in the house.
Our service begins with a visual inspection, where we check the toilet bowl, the tank, and the components to search for the problem. If there's an issue with the drainage or water flow, we'll roll up our sleeves and get working on the plumbing system. We will find the problem and deal with it for you so you can get back to your normal, comfortable life of using your toilet in comfort.
We want to help you save money, so we're 100% committed to finding and fixing that pesky leak, or dealing with the drainage problem that's preventing your toilets from flushing properly. With our help, you'll have a well-working toilet that you can be proud of.
If there's something seriously wrong with the toilet, we'll help you find a brand new toilet, one that suits your bathroom décor. We're more than happy to do the toilet installation for you, and we'll leave your bathroom looking as good as new!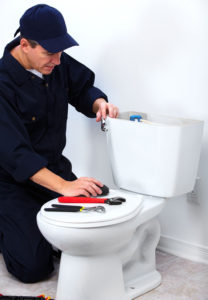 CONTACT US FOR SEATTLE SERVICE