Furnace Service Contractors
Your heater's down in the dead of winter. There's nothing to do about it but to make sure that you call a reputable Furnace Service contractor to handle it for you. The real question is, how do you make sure you end up with a reputable company that will make the repairs in a timely manner. If you've ever wondered what you should be looking for in an HVAC company then you're in the right place. Keep watching and we'll help you sort the good from the bad, and hopefully, you'll avoid the ugly.
RESIDENTIAL OR COMMERCIAL
The type of building that needs repairs is the first thing to take into account because they take a different skill set and set of tools. So, use a contractor who specializes, or has employees who specialize, in the type of repair which you need.
furnace service contractors PRICING IN SEATTLE
Those who offer particularly low rates for services are often working under the table and might not be licensed and bonded. The results of a botched job are going to end up falling on you in that case. There's another big factor: air conditioning and heating systems can take a considerable amount of time to diagnose and repair. Since contractors charge hourly for labor a "cheap" company can end up costing you more if the technician isn't skilled enough to make quick work of the job.
FRIENDS AND FAMILY
Referrals are one of the best ways to make sure the person you're working with is suitable for the task. If someone has experience with a company you're hiring then get things straight from the very beginning.
ONLINE REVIEWS
Online reviews are a great way to get a handle on how the company functions in the field. If they have a ton of glowing reviews then you're going to have a much better experience.
GET AN ESTIMATE
A reputable contractor will supply an itemized estimate, in writing, rather than just telling you around what it will cost. Keep in mind that even with a reputable company an estimate is still a rough idea of how much the repair or installation is going to cost you. Unforeseen circumstances can cause a job to run longer than normal and you'll still be on the hook for it in most cases. The important thing is to ensure that you have it on paper from the outset. This helps prevent big surprises later and anything major which comes up during the course of a repair is more likely to be discussed with you before the bill doubles.
FLEET AND TECHNICIANS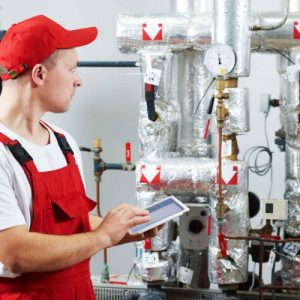 If the vans and trucks are beat-up, unmarked, and can be heard from blocks away as their engines go through their death rattle… avoid the company. It either means the company isn't generating enough revenue to keep on top of their vehicles or that they just don't care enough to put their best foot forward. Likewise with the technicians. It's a dirty job, but the employees who show up to service your equipment should be in uniform at the very least. The more proper and professional they act and look the better off you'll be since it usually means that standards are higher across the board. If you're in need of repairs then it's time to reach out to a local HVAC contractor. It can be a complicated, lengthy selection process but in the end, it's a necessary way to make sure you get the best work done for the best price. A little bit of upfront effort can save you a lot of money over the next few years. If you're in the Seattle, Washington area and need HVAC work done, we're here to help. Why not contact us today and start on getting an estimate? Thanks for watching
Call the professionals
Call Fischer Plumbing Right Away And Get The Best Plumbing Service At Your Doorstep
We are a full-service plumbing company that does all home service plumbing and sewer repairs.
This can be anything from drain cleaning, toilets, or sink replacement to rootering drains and repairing sewer lines. When it comes to plumbing, we do it all, just call us at (206)-279-3322
We care about your health and continue to serve our customers safely through the CDC COVID-19 protocols.
Office hours are 8 AM to 4 PM, after-hours emergency calls are very limited with current labor shortages, we cannot guarantee the ability to provide after-hours plumbing services. We will do our absolute best to accommodate your needs.
We are an hourly shop and charge time and material for most of our plumbing services. This is a more cost-effective process for our customers and most other plumbing companies charge overinflated prices and they have much higher profits as a result.
We do plumbing as far north as Everett and as far South as Renton. We also travel east as far as Woodinville and Issaquah. Please call us if you would like to know about providing plumbing services in your community.
Yes, we love to support non-profits, from Churches to Volleyball Teams, Little League, and our local roadside clean-up crews, we love to help out where we can.
CONTACT US FOR ALL YOUR PLUMBING NEEDS