SUMP PUMP REPAIR & INSTALLATION SERVICES Near me
A sump pump can be your best protection against groundwater. If you have a basement in your home or an underground level in your commercial building, you'll definitely need a sump pump working around the clock. That means you'll need a sump pump installation and repair service you can trust.
With the help of our Fischer Plumbing technicians, you can ensure your sump pump is in proper working condition at all times!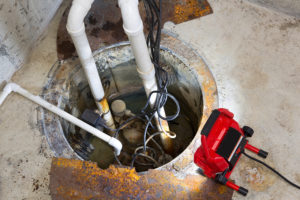 WHY A SUMP PUMP?
Seattle is one of the rainiest cities in the U.S., with an average of 37.5 inches of rainfall per year. That's a lot of water seeping into the ground!
As the water flows through the ground, it may find cracks in your home or building's foundation. It can seep through those cracks and into your home. Not only will this damage the walls and the foundation, but it can flood your basement or underground level and ruin your belongings, storage items, and anything stored below ground level.
But with a sump pump, you never have to worry about this happening! When you install your sump pump, you will have a sump pit dug. All the water seeping into your underground level will flow into your sump pit, and the pump will empty the water before it can flood your basement. The result: no flooding in your basement or underground level!
TYPES OF SUMP PUMPS
Understanding the types of sump pumps can help you know which works best for your residential or commercial building.
Submersible pumps – These sit in the ground water, which helps to keep them from overheating. You will need to install the sump pump in your sump pit.
Pedestal pumps –  These are air-cooled, which means they require a lot more space and air flow in order to avoid overheating. If you have a small basement, it may take up too much space to consider.
The pumps are simple: they are designed to pump water from the pit, up a drain pipe, and out of your home. But in order to be turned on, you'll need to have the right type of float switch installed:
Tethered switches 

are ideal for deep and wide sump pits. The switch is attached to the pump and turns on when the water reaches a certain level. It turns the pump off once the water level is low enough, allowing the pump to cool off and preventing overheating. This type of switch can extend the lifespan of your sump pump.

Vertical switches

are better-suited for narrow, shallow sump pits, as they turn on the pump more often and thus empty the pit more frequently. However, they keep the pump motor running to keep the water level more controlled. For smaller sump pits, vertical switches are a good option.

Electronic switches

are designed to turn the pump on and off in both the vertical and tethered design, but using electronic components to read the water level. They come with extra features, such as a water level/depth alarm.
Finding the right switch for your sump pump may be a bit more difficult than you'd think. That's why it's always best to have someone you trust to help you figure out the best sump pump setup for your home or commercial building.
WHEN TO CALL A PLUMBING TECHNICIAN
If you have found your basement or underground level flooded or wet, you may have a problem with the sump pump. If your sump pit is too full or the sump pump is making strange noises (whirring, clacking, grinding, etc.), you'll want to call in a technician.
Sump pumps are designed to last between 5 to 10 years, and any pump that is older than 10 years should be regularly serviced–or just replace it. Sump pumps with tethered switches will last longer than those with vertical switches.
OUR SUMP PUMP SERVICES
Fischer Plumbing is proud to offer sump pump services near you. For those without sump pumps, we offer:
Sump pit installation

Sump pump installation

Sump plumbing installation
For those who already have a sump pump, it may be a good idea to have the sump pump serviced. What does that include?
Battery check-up
Pump condition monitoring
Automatic charging and operation
Battery fluid level monitoring
Dual float switch design
If your sump pump is having problems, we're happy to come and repair it for you. Or, if repairing an old, outdated sump pump isn't your best choice, we'll recommend a quality sump pump as a replacement.
With Fischer Plumbing, you get quality service from courteous, friendly professionals. Your satisfaction is our highest priority, and we'll do our best to ensure your home is maintained in optimum condition. It's the only way to protect your investment!
We are a full-service plumbing company that does all home service plumbing and sewer repairs.
This can be anything from drain cleaning, toilets, or sink replacement to rootering drains and repairing sewer lines. When it comes to plumbing, we do it all, just call us at (206)-279-3322
We care about your health and continue to serve our customers safely through the CDC COVID-19 protocols.
Office hours are 8 AM to 4 PM, after-hours emergency calls are very limited with current labor shortages, we cannot guarantee the ability to provide after-hours plumbing services. We will do our absolute best to accommodate your needs.
We are an hourly shop and charge time and material for most of our plumbing services. This is a more cost-effective process for our customers and most other plumbing companies charge overinflated prices and they have much higher profits as a result.
We do plumbing as far north as Everett and as far South as Renton. We also travel east as far as Woodinville and Issaquah. Please call us if you would like to know about providing plumbing services in your community.
Yes, we love to support non-profits, from Churches to Volleyball Teams, Little League, and our local roadside clean-up crews, we love to help out where we can.
Contact us for all your plumbing needs
If you have a project that needs handling, big or small, call us today at 425-786-0096. Together, we can resolve your situation quickly, effectively and professionaly.
If you have immediate plumbing issues that need to be addressed please call vs. filling out this form. 206-279-3322
Please use this form for non-emergencies. If you have a plumbing emergency, call us right away at any of the numbers listed.